MYO Stained Glass Suncatcher
With the weather being so fluctuant these days, every bit of sunshine you can catch is a bonus. This is why we decided to enable you and your kids by providing this DIY activity.
Suncatchers capture rays from the sun and shadow them into your home making it look like a rainbow.
We believe that's enough reason to try this DIY activity – coupled with the fact that it will keep your kids occupied and away from a screen for the time being. Plus, they would make great little gifts!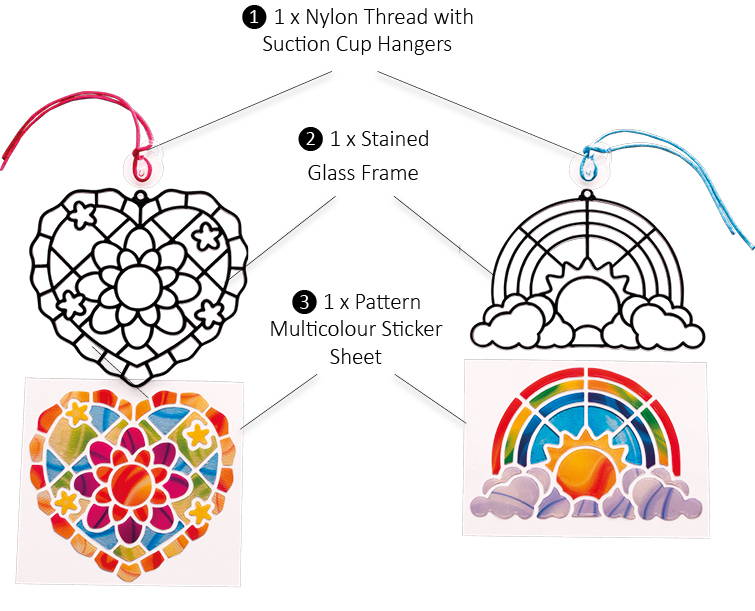 How To Make Your Own Stained Glass Suncatcher
Choose a stained glass frame and corresponding sticker of your liking
Place the sticker sheet over the stained glass frame to ensure proper line up. Repeat this step as often as required.
Peel the stickers of the sheet one by one and firmly place them in the grooves of the stained glass frame.
For best results, start from the lower end of the frame and from left to right. Slowly work your way up.
NOTE: Some of the stickers may look similar but they have different placements so refer to your design if confused. If the stickers fall off you can use clear glue to stick them back on.
Once the whole frame is complete, tie the nylon thread over the tiny hole on the top.
Use a suction cup to hang the suncatcher over your window and admire you very own creation.
---
---