Who doesn't love candles? They make nice decorative pieces for your home. They make nice gifts to give to family and friends. They set a certain mood when lit. They add light and warmth to any area. And so much more! We believe they aren't given enough credit for the amount of 'light' they bring to our lives.
Imagine visiting a friend's housewarming party or going to meet your family for a holiday and taking a nice candle as a present. Now imagine, if that candle could be handmade by your kids for their grandparents or aunts and uncles.
It adds a sentimental value to an already thoughtful present – and it gives your kids a new creative project to work on every now and then!
All You Need For Homemade Candles
| | | |
| --- | --- | --- |
| | | |
| | | |
| | | |
| | | |
How To Make Your Own Candles At Home
Once you've gather all the materials, it's a pretty straightforward process. Just be careful as you or your child may be dealing with some hot wax. Try and supervise them (the first few times at least) but don't do it for them!
Prepare the Wick: Attach a stickum to the base of the candle wick and place it in the center of a short glass. Make sure the wick is standing up straight (it may take a few tries, but we're sure it can be done).
Attach the Wick: Break some wax cubes into small pieces and pour a scoop into a paper cup. Microwave the cup for two minutes (or until the wax is melted). Stir the melted wax with a popsicle stick. Finally, pour a thin layer of wax into the bottom of the short glass to cover the base of the wick. Let it harden.
Add Your Favourite Colour: Take the paper lining off the crayons and break them into small pieces. Add the same colour crayon into a paper cup along with 1-2 scoops of broken wax cubes and microwave till melted. Once again, stir with a popsicle stick until the colour is evenly distributed in the wax. Add the coloured wax into the short glass filling it only ¾ full. Let it harden.
Adjust The Wick: Once the wax has hardened, cut the extra wick off – ensure to leave enough to burn!
TRY THIS: Add thin layers of different coloured wax to make a multi-coloured candle! Just make sure the layer below has hardened before you add another one on top.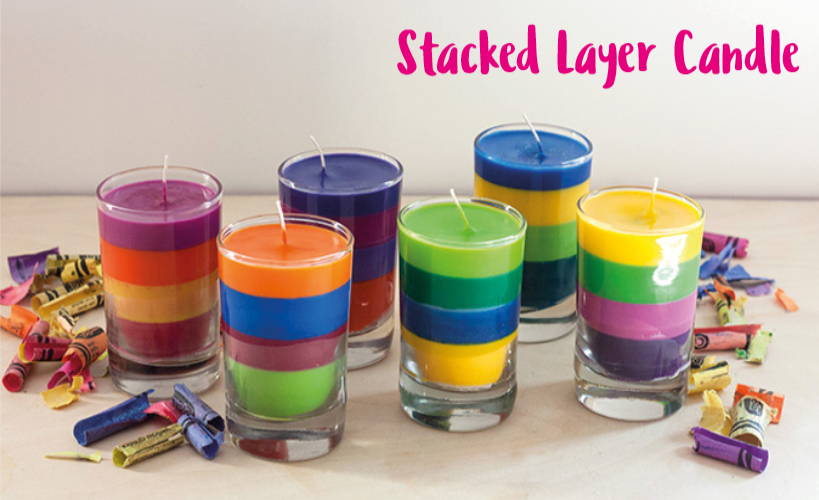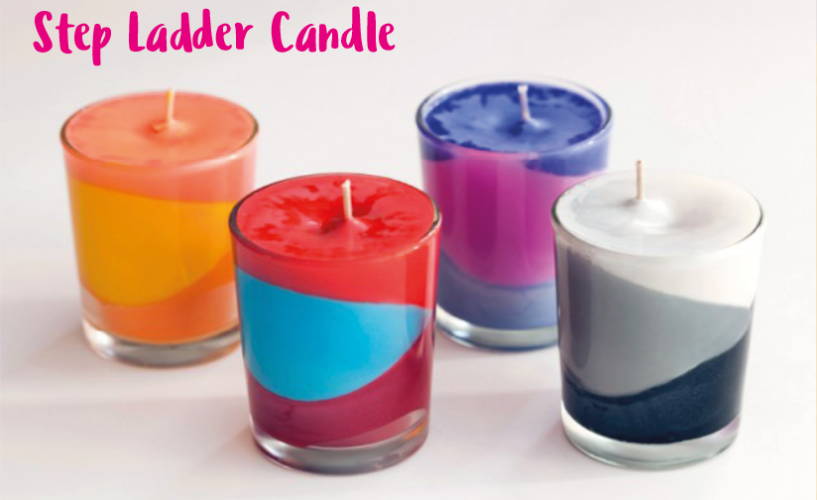 ---
---
Haven't got a DIY Candles kit yet?
Choose from one of the kits below and get it delivered to your doorsteps.
---