DIY Glow in the Dark Magnetic Slime
It stretches! It squishes! It glows in the dark! If you hold it up, it oozes down to the floor in a long strand! Add the element of magnet play and it becomes even more awesome!
Kids love all things that glow in the dark, are magnetic and slimy. So, how about we combine all of them in one? Get your kids to make the ultimate DIY toy - Glow in the Dark Magnetic Slime.
Sound fun? Well, let's get going.
Magnetic Glow in the Dark Slime Ingredients
| | | |
| --- | --- | --- |
| | | |
| | | |
| | | |
Magnetic Glow in the Dark Slime Recipe
Once you've gathered all the materials, it's going to get a little messy so make sure you're wearing old clothes that you don't mind dirtying.
  Let's Get Ready: Find a flat surface to work on: a table, a bench, even the floor if you'd like. Lay out the plastic cover so you don't leave any stains and get yelled at later.
  Let's Get Mixing: Fill 1/3 of a plastic cup with the glue, and 1/3 of the same cup with water. Stir – stir - stir away till its nicely mixed. Add 6-8 drops of the glow in the dark paint and stir a little bit more.
  Fill another plastic cup with water and add 1 teaspoon of borax powder into it. Stir – stir – stir away but be careful of splashes!
  Let's Get Sliming: Start adding the borax solution into the glue mixture in small amounts. Stir as you go until you get that gooey, stretchy, thick and slimy mixture. Then take it out of the cup and place it on your flat surface. Start folding the slime outside in with your hands. Pull and fold and pull and fold until it becomes smooth
TA-DA ~ THERE'S YOUR GLOW IN THE DARK SLIME!
5. Now to make it a little more interesting… Add 1-2 tablespoons of the magnetite powder to the slime and mix it up well. This time, we're going to do a bit of stirring as well as a bit of pulling and folding. If your hands get tired, pause for a second and start again.
6. And the wait… Leave the slime overnight so all the ingredients blend in well and the slime is set!
The slime is now at your command. Use the magnets to make it dance, jump, eat and roll. Turn the lights off and it will glow.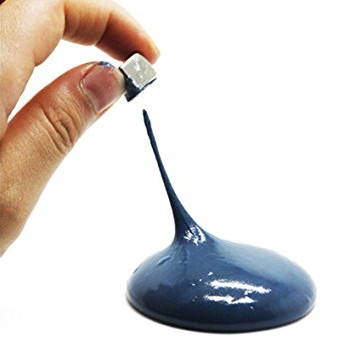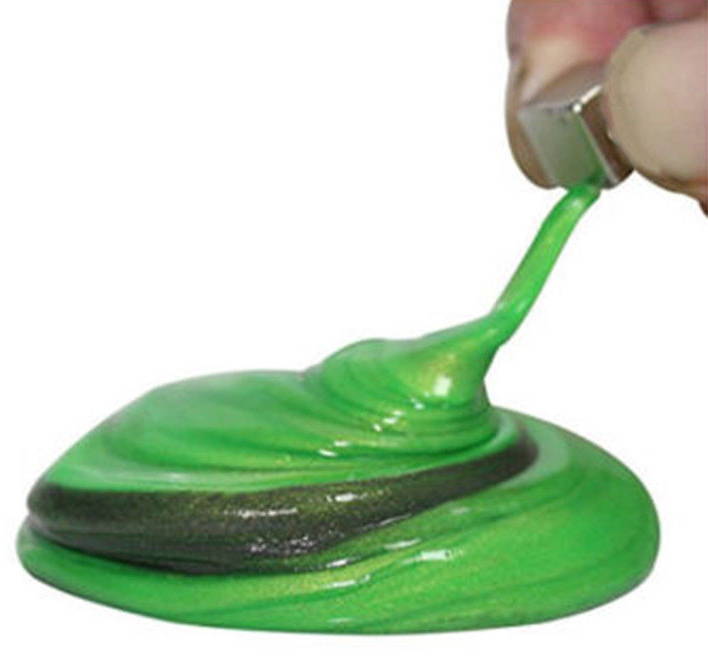 ---
---