Take A Picture Without A Camera
Pictures create memories – memories that many a times are irreplaceable. As far as we know it, we've used cameras which needed films, followed by digital cameras, then phones, and now numerous different apps on smartphones like Snapchat and Instagram. We edit each image till it is perfect.
Did you know, before technology came into play, pictures were taken using the heat and light from the sun?
We bring you this DIY activity to share with your kids in a larger attempt to take their eyes and mind off a screen and on to physical science and creativity.
What You'll Need To Take A Picture Without A Camera
| | | |
| --- | --- | --- |
| | | |
| | | Any small objects you'd like to photograph (choose something interesting: leaves acorns, keys, buttons) |
| | | |
| | | |
How To Create Sun Photographs
Prep your materials on a flat surface where you can get ample of sunlight (perhaps your dining table or the porch in your backyard).
Fill three-quarters of the flat tray with water and add 4-5 drops of the lemon/lime juice to it. Keep aside to avoid spilling.
Carefully remove a single sheet of sun print paper and a single acrylic sheet from the packet (making sure the others don't fall out and get exposed to sunlight).
Lay the sun print paper on a flat surface and place your small object (leaf, key, button, etc) to print on top of it. Then layer the acrylic sheet on top of the small object.
NOTE: If you choose a larger or more 3D object like an acorn or a wooden stick, lay the sun print paper first, then the acrylic sheet and finally the object on top.
Leave the papers and object under sunlight for 3-5 minutes and you should be able to see the sun print paper change colours to light blue and prints of your chosen object appearing on the paper too!
Take just the sun print paper and dip it in the tray of water from step 2 for 1 minute. You will now see the paper changing to a darker blue. Take the paper out of the tray and dry it on a towel.
Once the paper has completely dried, it will start to wrinkle on the edges. You can put it inside a thick book to flatten it out or use a clothes iron for faster results.
NOTE: If using a clothes iron, keep the sun print paper between two kitchen towels before ironing. Do not iron the sun print paper directly.
THERE YOU GO! YOU'VE TAKEN A PICTURE WITHOUT USING ANY ELECTRONIC DEVICE!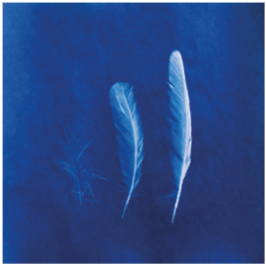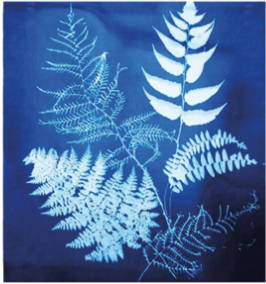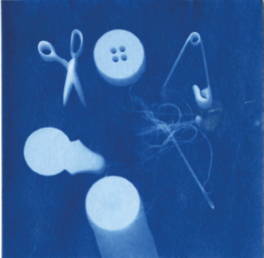 ---
---