JAZZ UP YOUR OWN CERAMIC MUG
It's turning into the perfect weather for some delicious hot chocolate. Curled up inside a blanket watching TV, reading a book, listening to music or even stuck doing homework – hot chocolate brings comfort.
Instead of sipping your hot chocolate from a standard ceramic mug, let's jazz it up a bit for an extra feel good factor.
The best part is, even children can do this activity – and that may perhaps encourage them to drink more milk since it will be in a mug they designed!
What You Need To Marble A Ceramic Mug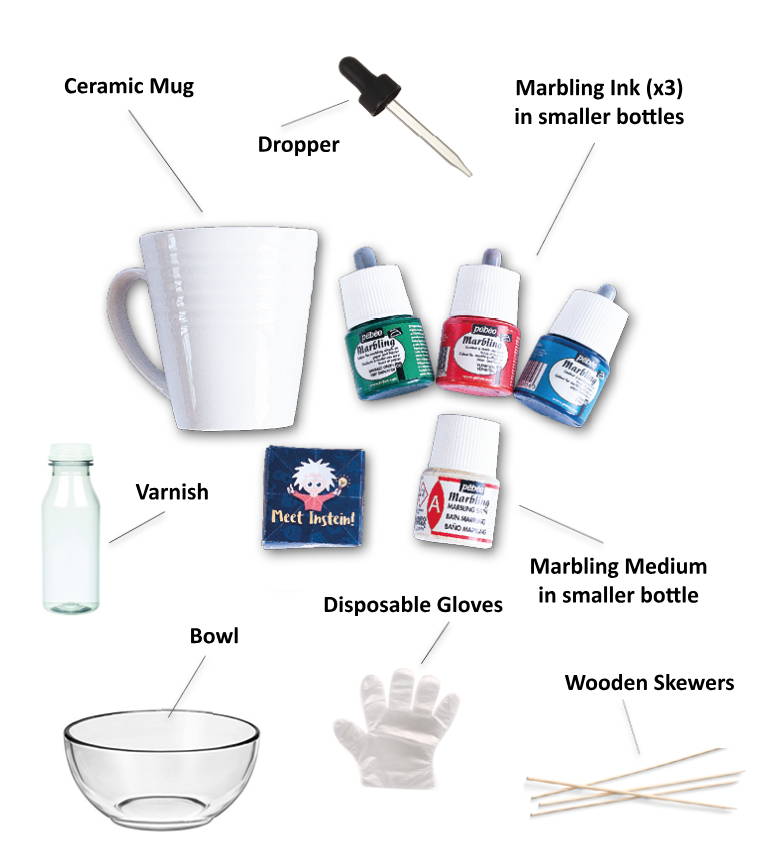 Before you start, make sure you have kitchen towel handy and you are wearing the disposable gloves so you can clean off stains before they set!
Pre-Prep
Fill the bowl with 500ml of water and add one teaspoon of the marbling medium into it. Stir the water slowly but thoroughly to make sure the medium mixes in well.
Let the water sit for 2 hours.
Add The Colour
Use the dropper to add 1-2 drops of marbling ink into the water bath prepared in step 1. Add one colour at a time.
For example: 2 drops of yellow, followed by 2 drops of blue and finally 2 drops of pink.
Remember, the colour you add last will appear the brightest.
You can also do this with just a single colour if you like.
Make The Pattern
Use the wooden skewer to make patterns in the marbling ink. The easiest one is to write the letter 'S' in the water. Do this very gently as you don't want to mix the colours, just move them around a little.
Marble Your Mug
Hold your mug from the top (where you drink from) and dip it into the ink water. You don't have to leave it there, literally just dip and lift back up. Once the excess liquid has dripped off, place the mug on a paper towel to let it dry off completely.
Remember not to touch it while it is wet unless you want fingerprint marks on your marbled mug.
Finally…
Once the ink is dry, use a paint brush to apply an even single coat of the varnish on the mug.
Let it dry for 1-2 hours.
DID SOMEONE ORDER A DIY MARBLED CERAMIC MUG!?
P.S. This also makes for a really cute gift – perhaps for your mom or dad or both to keep on their desk at work and think of you with every sip of their coffee!
Note: This is not dishwasher safe, it must be hand washed without a scrubber.
---
---
Haven't got a Marbling kit yet?
Choose from one of the kits below and get it delivered to your doorsteps.
---